Be aware with solar panels quality
With a growing photovoltaic sector and with photovoltaic systems for self-consumption and grid connection increasing every day, it is essential to know what we must demand from a solar panel to ensure good quality and avoid being deceived by dishonest manufacturers.
The reality of solar panel quality
Sales of photovoltaic solar modules have been growing at record levels in recent years, but we must be very cautious when choosing one brand or another. Dr. Michelle McCann, from the prestigious PV Lab, explains why it is important to demand quality testing of the solar panels that we will install in our photovoltaic project.
For this study carried out by PV Lab, one of the most active photovoltaic markets in the world, Australia, has been taken as a sample. There, more than $1 billion dollars are spent each year on photovoltaic systems, from small domestic systems to power plants of more than 100 MW, something similar to what happens in Spain.
This investment volume of 1,000 million euros is about self-consumption and grid-connected photovoltaic systems, i. e. they are all connected to the national electricity grid, and consequently form part of the country's electricity infrastructure. If we were to spend $1 billion each year on a new coal-fired power plant, we would demand rigour and controls to ensure that we got what we paid for and that it worked as specified to work. Why should photovoltaic solar energy be different?
Solar panels are often regarded as a 100% reliable product and technology. They may be, but not in all cases.
Most solar panels are made from silicon solar cells. These solar cells that make up each solar panel are completely reliable and capable of doing electrical power generation work for decades without major problems, or at least should be.
Unfortunately, the habit of checking the veracity of data and quality of solar panels is not yet widespread and we settle for a series of documents and papers to be "sure" that the product is reliable. We usually rely on comments, such as:
"The manufacturer has guaranteed the performance of the panel."
"No one else has had any problems with panel performance."
"All solar panels are practically the same."
or… a long etcetera.
Each of these statements is false. If not checked, what is the actual value of the warranty and/or performance of the solar panel?
Problems with solar panels are rarely made public, but they exist, and many do. In fact, in many countries, proofs of performance and veracity of documentation are mandatory before a solar plant can be financed.
Measuring the actual value
Solar panels are sold with nominal output power, typically between 260-340 watts peak (Wp) and their price is measured in Euro/Wp. Each solar panel is tested at the end of each production line so that a manufacturer knows the actual output power of each panel.
So, one of the first questions we can ask is: Do you really get the Watts you're paying for?
Until recently there has been no possibility to test the power of solar panels (outside measurements are not accurate enough) and the artificial, fraudulent increase in nominal power is an easy way for an unscrupulous manufacturer to make some free money. In other words, there are manufacturers that sell us a 270 Watt solar panel, when its actual power can be perfectly around 260-265W.
A simple glance at some statistics shown in the following graph shows that there is a serious problem of quality and veracity in the solar panels that come into our hands.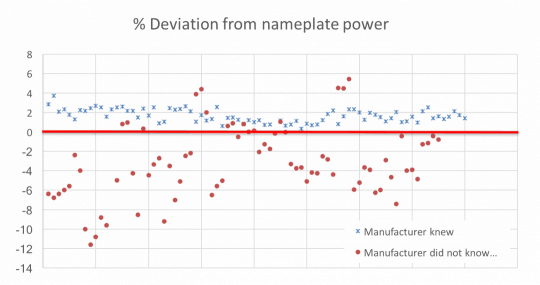 The graph shows in % the deviations (positive or negative) in two cases:
On the one hand, those marked with the "x" are measurements made on solar panels that the manufacturer knew were going to be made.
On the other hand, those marked with the red dot are measurements made on panels that the manufacturer did not know that the measurements were going to be made.
To determine the % deviation, the output power of each panel has been compared to the nominal output power, so a score of 0% means that the panel produced exactly what it promised.
The results are variable and the worst panel is 12% less than the promised potency. Most of these panels that have been used for measurements are new.
It is true that to say that a panel has 12% less power than it should not sound too serious, but it is, as this will affect the daily energy production of the life of the installation.
But this is not the most serious thing, but the fact that the manufacturer, by falsifying the real power implies that:
It is being enriched at the expense of a product that does not yield as it should.
It is deceiving us with the falsification of the real power, so without a doubt it will also be deceiving us with the quality of other parts that integrate in solar panel.
It damages the image of the photovoltaic sector, because an owner dissatisfied with the production of his photovoltaic system can spread the already widely heard idea of:"Solar energy does not work".
Controlled quality
As we say, in the graph, there are manufacturers who knew that their panels would be measured, and others who did not. This trend (a difference in output power when a manufacturer expects to perform tests) is repeated in testing laboratories around the world and only the PV+Test does not warn when and where these measurements are to be performed. Put another way:
It's as if a child behaves in the best possible way when he knows we're watching him, but his behavior changes as soon as he looks away.
In order to ensure at least the quality and real power of a solar panel, it is necessary to demand at least:
Successfully passed the PV+Test carried out by TÜV. In this way we will know the real quality level of that solar module.
Have the PV Power Controlled certificate, YES or YES. This is non-negotiable, because it is a guarantee that the solar panels we buy will have at least the power indicated on the label. This is because TÜV technicians check these data daily in the same factory.
There are multiple opportunities for a manufacturer to reduce costs or for imperfections in the manufacturing process to come into our hands unknowingly.
Examples that do not always count:
The frame may not be square, i. e. it may have deviations in the width-length-thickness of each unit, increasing installation costs.
The panel can carry the "PID-free" label, but many panels that carry this label are not PID-free. (PID refers to "potential induced degradation" and is a problem that can have catastrophic consequences for energy production, particularly for large solar farms where many panels are connected in a single chain and the voltage differences are high.
Encapsulation foil may not contain UV filter. For a manufacturer, this increases production and reduces manufacturing costs, as UV filters are the most expensive component of a solar panel.
The back foil, the Tedlar, if it is of poor quality can deteriorate when exposed to sunlight.
Most importantly for first-day performance, cells may contain microcracks (cracks that are not visible to the naked eye) and/or produce less energy.
Both the CSIRO PV Performance Laboratory and PV Lab Australia offer commercial testing programs for solar panels.
PV Lab's quality control procedures have been developed for more than a decade to provide information on module performance and long-term reliability. In this way, they enable customers to protect investments in their facilities and reputation. PV Lab uses only Class AAA solar simulators in accordance with International Electrotechnical Committee standards and internationally recognized sampling techniques to ensure thorough and reliable testing.
In general, the tests performed answer three questions:
First, did I get what I paid for the first day? This is determined by an STC power test with a solar simulator. The solar simulator measures the output power under standard test conditions (STC).
Secondly, were the panels damaged before leaving the factory or during transport? This is determined using an electroluminescence (EL) test. In many cases, micro-cracks may form, not visible to the naked eye but which may have a future impact on output power, during handling or, for example, if a container falls into the port or if the lorry transporting the goods suffers an accident. As an example, the image we see shows a severely damaged panel. Again, most of these cracks are not visible to the naked eye.
Thirdly, is it likely that the panels will last as long as their warranty is guaranteed? This is determined using a series of tests including the PID test for long-term degradation and wet leakage tests to determine the susceptibility of a panel to water ingress.
Conclusions:
As we have been saying, quality control and verification is essential, because when problems are identified, they are inevitably very costly to solve and time consuming.
Ensuring the quality of a solar panel is not a cost; it is a method to reduce the cost through an adequate allocation of risk.
Investing a little more in a quality solar panel will save us many headaches and, above all, many future costs we do not consider a priori.