More information about SHARP NURC300 Mono PV Panel
SHARP Solar – 50 years of experience manufacturing solar panels:
Sharp solar is one of the world leaders in the manufacture and sale of pv panels for pv-sytems. With more than 50 years of experience.
Sharp began its commitment to the research and development of photovoltaic cells in 1959 and have been continually refined and used in a wide range of applications. From satellites thrown into space to land utilities for headlights, industrial and residential uses.
Some interesting data about the strength of SHARP solar as a manufacturer:
It is a global manufacturing company of electronic components.
It has more than 50,000 employees worldwide.
Sales volume of more than 26,000 million Euros in 2014.
Partner with Foxconn (Apple manufacturer).
Included in the Tier 1 list made by Bloomberg:
Bloomberg New Energy Finance has established a rating system for pv panel manufacturers. This system evaluates the bankability and the solidity of each manufacturer, as well as reference projects and other aspects and depending on the results, there are 3 levels, from the highest "Tier 1" to the lowest "Tier 3".
SHARP solar was included in the highest level, Tier 1, since May 2015 thanks, among other things, to its financial stability, mostly after Foxconn agreement.
Being in the Tier 1 list of Bloomberg is fundamental to the bankability of a solar panel and, above all, to be sure to be buying a product backed by a solid company.
Top Brand PV Award in 2011, 2012, … , 2015:
SHARP was awarded in 2015 with the prestigious Top Brand PV title from EUPD Research. This award is granted according to the degree of satisfaction of the customers of each manufacturer, valuing the attention, the product, etc.
In addition, SHARP is in the fourth place of the PV + Test made by TÜV, as one of the best solar panels in the pv market. Test that is performed on samples collected by TÜV in the real market, making it the only one 100% real test of the photovoltaic market.
Purchase SHARP NU-RC300 monocrystalline solar panel is a good decission for quality and performance.
SHARP NU-RC300 Mono – Certificates:
In the market there are different quality seals and the end customer should always value them before making a purchase decision.
The 300W solar panel SHARP NU-RC300 has, among others:
IEC / EN 61215 and IEC / EN 61730 certificates issued by TÜV and VDE.
Certificates ISO 9001 for quality standards and ISO 14001 for environmental standards.
CE certificate as the product complies with the European directives.
MCS certificate for sales in UK.
100% Free of degradation by PID effect.
Basics: How solar panels work?
The installation of pv panels aims to produce electrical energy from solar energy. This generation of electrical energy, without emission of pollutants, is produced as a result of the direct capture of solar energy and through the intervention of the so-called photovoltaic effect.
PV modules, formed by photovoltaic solar cells, are the devices that directly transform solar radiation into electrical energy in direct current. The transformation of solar radiation into electrical energy is done in the solar cell. The process that realizes this transformation is called photovoltaic effect, and occurs when the solar radiation impinges on a semiconductor material (the solar cell).
We could say that, when solar radiation hits the solar panel, the photovoltaic cell behaves like a small electric energy generating cell.
The photovoltaic cells are formed mainly by silicon. Manufacturing technologies for silicon photovoltaic cells give rise to monocrystalline and polycrystalline silicon cells. In the case of 300w solar panel SHARP NU-RC300, the cells are high efficiency monocrystalline type.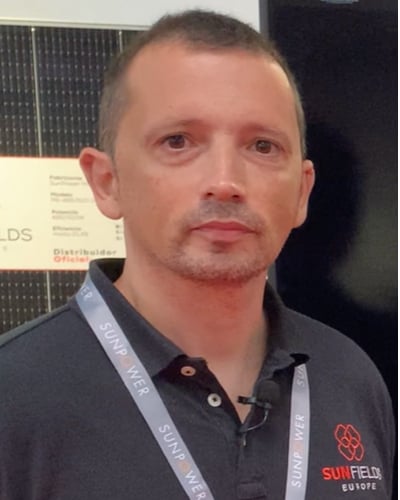 (+34) 981 59 58 56
info@sfe-solar.com
Our sales team will support you with all that you need.